West Park Cafe (2008-10-30)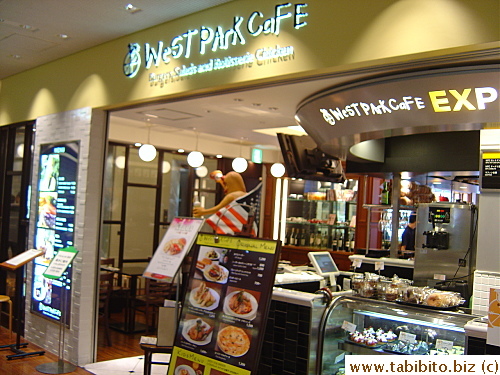 The menu at West Park Cafe is suspiciously similar to that of
Wolfgang Puck Cafe
. Both feature burgers and roasted chicken as their big sellers. Come to think of it, even their names bear some resemblance (WPC vs WPC).
Being a good burger lover, I couldn't help but ask KL to go try out the burgers at West Park Cafe with me. Service was as usual, friendly and efficient. The staff who took our order did the whole thing in English, so that's a surprise.

How else to compare the two cafes than to sample the burger and rotisserie chicken? The burger was significantly smaller than Puck's and devoid of chargrill smokiness, but still pretty juicy. The chicken was fall-off-the-bone tender although it didn't feel like it was freshly roasted and lacked the all-important juiciness. It was also disappointingly bland as if the chef had forgotten to use any salt at all, even the onion gravy that accompanied it was bland. It is very rare for KL to ask for salt in a restaurant, but that's what he had to do.

With Wolfgang Puck only a few minutes' walk from West park, we won't be going to the latter if we crave for a burger.

West Park Cafe Shinjuku (
) Takashimaya (
) 12F Tel: 03-5361-1853
---
Back to top