Brasserie Paul Bocuse Le Musee (2009-05-16)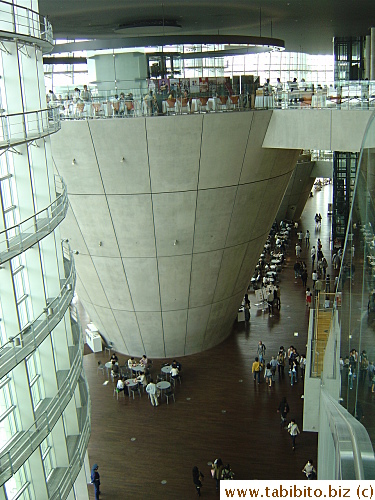 To answer the question from yesterday: We went to the National Art Center TO EAT.
Brasserie Paul Bocuse Le Musee is located on the third floor of the Center in a whimsical conical structure. Most of the tables are placed along the perimeter of the restaurant, and food is prepared in the basement kitchen and brought up via the elevator.

The resturant is super popular during lunch time and diners begin to queue well before the opening hour of 11am. To secure a table on weekend or public holidays, you must arrive no later than 1045am and join the line!

To commemorate the Louvre exhibition, the restaurant is running a special "Louvre Course" with an appetizer, entree and dessert for 5250Yen/US$53 (a measly saving of about 5 bucks). There's also the usual lunch course of 2680Yen and the very reasonable 1800Yen two-course lunch that many people order (right now it's on sale for 1500Yen to celebrate the restaurant's second year running).

The Louvre Course that KL and I both got was nice, and that's it. We weren't overwhelmed by the presentation or the taste. The one annoying aspect in our dining experience is the lack of space between tables. There's maybe just 6 inches separating our table with our neighbors'. It's a complete devoid of privacy which is something we don't like.

Brasserie Paul Bocuse Le Musee Lunch 1100-1600, dinner 1600-2100 Tel: 03-5770-8161 
---
Back to top