Worst Dinner Of Our Lives (2009-12-26)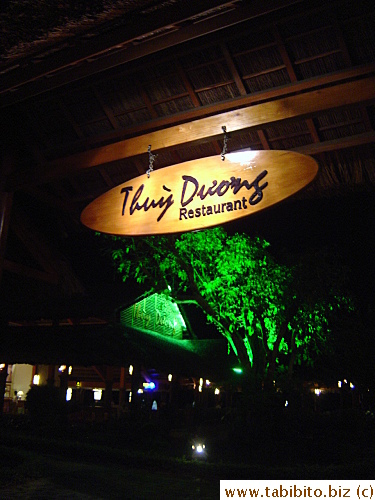 Recommended by Zannie and her husband, we took a cab to the furthest restaurant we ever ventured in Nha Trang for dinner.
Thuy Duong is located just past the New Bridge by the water so you get a nice night view of Nha Trang city if you sit at one of the tables outside. After that horribly sweet pomelo juice in Gia, we specified "no sugar" in the freshly squeezed pomelo juice this time. It was indeed refreshing and naturally sweet and slightly tart.

Okay, here comes the food. First, there's this abalone dish with some stirfried vegies in the center. The fresh abalone was SO VERY CHEWY! It was like trying to tear through plastic bubble wrap!! Even overcooking those suckers couldn't have made them that chewy, what gives??? Were they fake abalone?

The second dish was crabmeat-stuffed squid. Again very chewy, but slightly bearable. It's like chewing and swallowing gum but still doable. Was the quality of the seafood bad or the chef just didn't know how to cook it?

Lastly, we had the piece de resistance: Chicken in Tamarind Sauce. First of all, the sauce was tasty, a good balance of sourness, sweetness and spiciness. The chicken on the other hand was like FIRESTONE TIRE!!! We chewed and chewed and it only got bigger with each bite. Did they trick us by giving us a rubber chicken?! What the hell's going on?

Of course we left the plate pretty much untouched and scooted out of the place. Perhaps we ordered the wrong dishes, but my mouth was too exhausted to find out.

Thuy Duong Restaurant The first restaurant on the right past New Bridge. Tel: 058-354-3787
---
Back to top