A Failed Visit To Our Old Apartment (2005-05-22)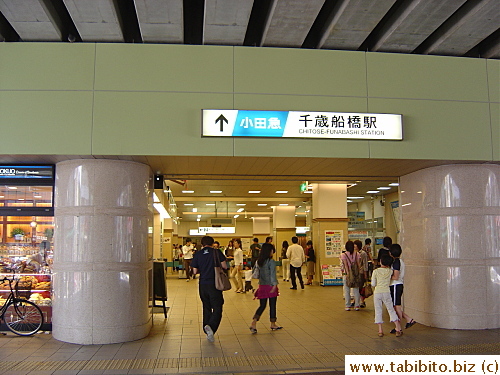 Before we moved to our current apartment, we used to live in an even smaller one in a suburb called Chitose-Funabashi (Thousand-year-old Shipbridge). KL and I had always wanted to go back to the place and see what our apartment had become, so we finally paid a visit to that suburb recently.
The Chitose-Funabashi train station has a complete facelift and no longer looks like the shabby run-down structure we used to know. The new station is spacious, clean and modern. They have added two more tracks to the station making the new wide platforms look even wider.

After a four-year's absence, the small shopping street there hasn't changed much. Most of the shops are still there and a handful of new ones have sprung up. We took a walk around the station and the side streets before we turned into the street where our old apartment building with its large parking lot was.

We were getting quite excited as the address approached but the excitment soon turned into one huge disappointment. The building and the car park were gone! The spot has been replaced by several houses. There are three brand new small houses in the front and a couple more at the back. The disappointment then turned into disbelief when we saw the name plate on one of the houses bearing KL's ex-colleague's name! His Japanese friend had mentioned buying a newly-built house in Chitose-Funabashi a few months earlier, but KL never imagined it would stand on our lot.

Who would have thought we went all the way back to the old suburb to visit our apartment only to see KL's friend's brand new house! Out of 12 million residents in Tokyo, what is the chance of someone KL knows moving to our old address? Just amazing.

---
Back to top