Friends From Afar (2008-03-28)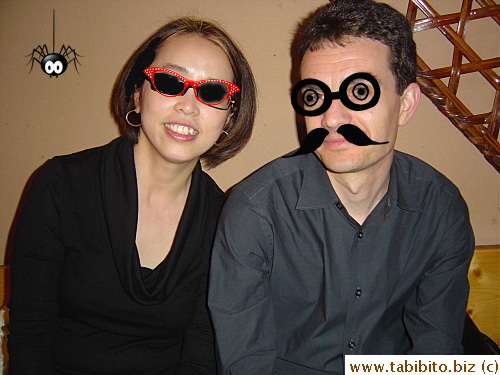 The past week had been exciting as KL's brainy friend A and her equally brainy husband D and my sister and brother-in-law came to see us. These people who last visited Japan about four years and seven years ago (has it been seven years already?! Good Grief!) respectively just decided to arrive in Tokyo on the same day!
Well, A and D were actually on a business trip to China but stopped over here to spend a nice time with us over dinner. A, a reader of this site, suggested eating at Gyuu no Tachijin after reading that post. No problem! Anything for you, A.

I don't know if it's just me, but I find the beef not as overwhelmingly impressive as the first time we were there with my brother. If that dinner's worth 95 points, I would give this meal with A and D 85 points. KL said it's the "novelty's gone" thing and I was expecting too much. Perhaps I was. We had a really good time nevertheless and the food was still generally delicious.

At the end of the meal, D had to fight with KL for the check which D won. But after finding that only cash was accepted (because we used a 10% off coupon) at the cashier, he had to come back to the table to ask A for money which created the perfect opportunity for KL to sneak in and pay for the bill, haha!

I think D wasn't too happy about that but he did treat us to very good dessert at Takano afterwards. We are even D, and thanks for dessert!

Oh, I also want to thank A for bringing us the cajun seasoning which KL asked for and the rest that he didn't. I love love love the seasonings and will try the curry soon.
---
Back to top