Nougatine (2008-07-02)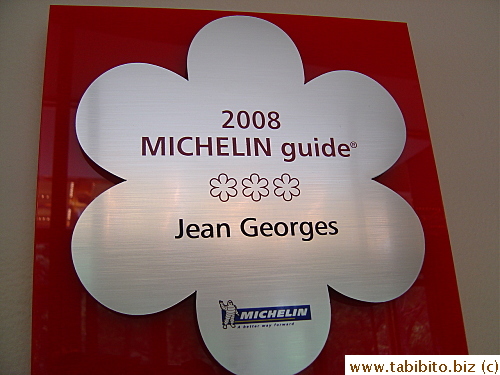 Situated on the ground floor in the Trump International Hotel & Tower in Columbus Circle,
Nougatine
is managed by famed Jean Georges, the only Michelin 3-star chef in New York. We were greeted by a trio of staff at the entrance who happily showed us the bar area to wait for Marco.
The restarant is bright, modern, high-ceilinged and featured a semi-open kitchen. Nougatine isn't as formal as Jean Georges, but I still saw some men dressed in suit and women in dresses. There's also one or two jean-wearing men but all were treated with the same smile and enthusiasm by the staff.

The Prix Fixe lunch (served Monday to Saturday) of $24.07 is the best value in town. It includes appetizer, entree and dessert prepared expertly and presented handsomely. Marco chose the Grilled Romaine Salad while KL and I ordered the chilled soup. For entree, we all wanted the Pan Roasted Skate which had a crispy outside and juicy moist meat, simply divine. Dessert was also enjoyed by all.

Nougatine may be the best kept secret of NYC, I would recommend it to anyone who likes French cuisine.
---
Back to top