Galeries Lafayette (2010-12-19)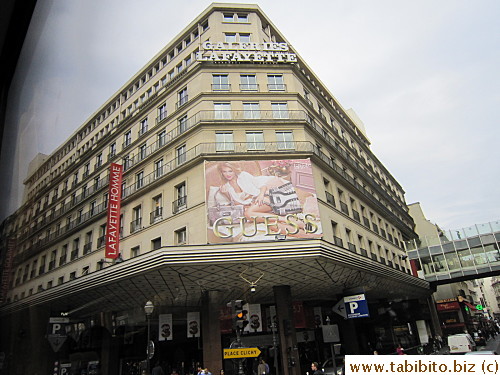 If you don't plan to shop in department stores in Paris, at least check out the inside of Galeries Lafayette for fun. Its ornate cupola is just beautiful and the opera theater-style circular architecture is picture-worthy.
Lafayette comprises of three buildings: Men's, Women's and Homeware. KL found a great French name men's bag at half price. In fact there's an excellent 3-day sale while we were there attracting tons of shoppers. 176 Euros' purchase (excluding food) on the same day will qualify you for a tax refund (you'll get 12% back from the insanely high 19.5% sales tax).

Lafayette Gourmet is also a great place to browse if you're like us, like food. We got the best bargain of our trip there: buy-one-get-one-free truffle oil.

Printemps nextdoor is also nice to browse with a large shoe department on the fifth floor. Their homeware building will also make any kitchenware lover weak in their knees. KL bought a nice shirt at Printemps' Men's building on a later day.

There are a bunch of other good shops in the area including H&M, Zara, and Uniqlo; and all these is within 10 minutes' walk from our hotel.

Galeries Lafayette 40 Boulevard Haussmann Metro: Havre Caumartin
---
Back to top