Cherry Blossom Viewing (2006-04-17)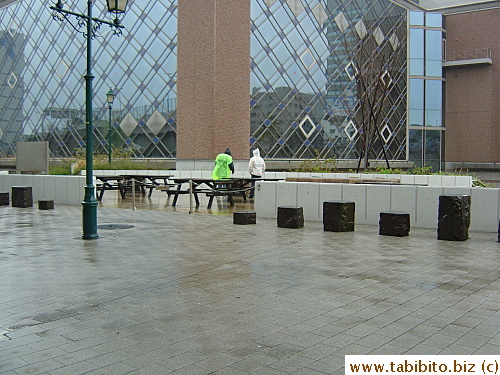 You know Japanese people are big on cherry blossom viewing (Ohanami) when many companies allow employees to have a picnic under cherry trees on paid company time. That's what happens in KL's company.
Last Wednesday the office organized a BBQ at Hamamatsuchou Park where the cherry trees were in full bloom there. Nearly the entire staff participated, all paid to have a picnic and enjoy good food. Unfortunately it rained that day, so the BBQ was a no-go and everybody went to a restaurant to have lunch instead and then to a beer garden to drink.

Since it was quite chilly that day as well, the fish, meat and oysters for the BBQ, which were sitting in coolers in someone's car in a parking garage, didn't spoil. KL took home a couple of racks of lamb. He has yet to be asked to pay for that which he'd be happy to since the company picked up the tab for the lunch.

The following night I cut up the rack of lamb to make a stew so I could make sure the meat was cooked thoroughly. Afterall the meat did sit in a car trunk for a day. I am not a big fan of lamb but KL loved the dish a lot. He says I am a good cook, he has me and his company to thank for a wonderful dinner.

---
Back to top