Keo's (2006-11-17)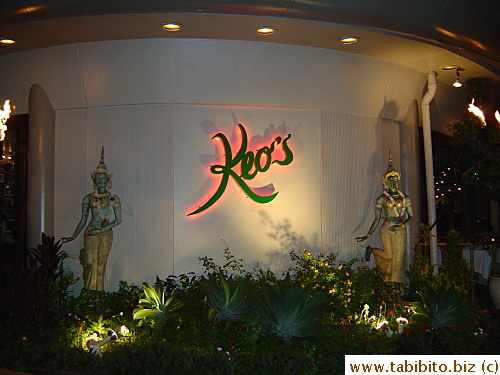 Our segway guide pointed out Keo's to us on our tour shortly after we left Hilton and he highly recommended it especially their papaya salad. After that huge burger lunch, we decided to get Thai for dinner. It uses a lot of veggies and seafood in their cuisine, a perfect light dinner to compensate for all the grease we consumed in the afternoon.
When we stepped inside, the first thought that hit me was "Oh, it's hot". There's no air-conditioning in the restaurant. There are huge open windows that let in the same humid air from the outside into the interior. There are numerous Thai artifacts and statues inside the restaurant, some big enough to serve as a divider between tables.

Since KL wasn't very hungry we only ordered a green papaya salad and a soft shell crab dish to begin with in case we couldn't finish the food. Service was a bit slack. We waited awhile before anyone came to our table after we were seated. It was 9 pm when we arrived and there were quite a few empty tables around, so it wasn't like the staff was rushed off their feet. During the course of the meal, the water glasses weren't refilled and I needed my water! The crab dish was really spicy. There was a small kerosene lamp on every table but ours was the only one that wasn't lit. Normally KL wouldn't have said anything but since it was our last meal in Honolulu, he wanted a "candle-lit" dinner. The staff who took our order made no attempt to light it and left, so we had to fetch someone else to get it going. It's all these little things that define a restaurant with good or poor service.

Judging from the serving size and quality of the dishes we ordered, I'd say Keo's is a pricey restaurant. The papaya salad had just papaya and thin slivers of tomatoes in it, not like the ones I had before which had a bunch of other vegetables and toasted chopped peanuts mixed in. Which is the authentic version? I don't know, but the kind with a variety of ingredients seems to justify the price better. The dressing in the salad was so tart that it's "cooking" the papaya. I felt like I was eating pickled vegetables! Every bite was followed by puckered lips smacked shut by the very sour papaya. If you aren't hungry to begin with, this dish will clear your palate and sinuses and restore your appetite.

The soft shell crab with basil, chili and bamboo shoots was the star of the meal. The crab pieces were deep-fried and then stir-fried with pungent basil and generous amount of hot chili (because we ordered the spicy version). The crab was harder than the ones I had before but still good. The whole dish was fragrant and spicy, just like the way we like our Thai food.

Because of the small serving size, we thought we could cramp one more item into our bellies. We got the fish patties served with a sweet and sour cucumber sauce. The patties were freshly fried but lacked the springiness found in good fish balls. Granted these were fish patties, not fish balls, so they should be excused for not being bouncy. The sweet and sour dipping liquid was perfect to cut down the heaviness of the fried patties.

Overall the meal was not too bad especially when there was a stand-out crab dish to highlight it. It was our farewell dinner and I'm just glad it wasn't some horrible food we were served.

Keo's 2375 Kuhio Ave Honolulu
---
Back to top