Best Chocolate Chip Cookies Ever! (2010-03-28)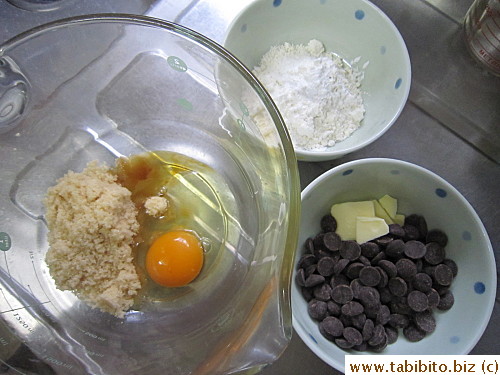 I said "I was hoping they would be plump and chewy " and "The search continues for the best chewy CCC recipe"
in this post
. Searching I have been and I FOUND THE RECIPE!! Well, the cookies are the kind I crave: crispy shell and edge, plump and chewy soft inside which don't harden up when cooled.
The recipe has actually been in my possession for a long time when I at one point was madly jotting down chocolate chip cookies recipes culled from the web. One day I just felt like testing another recipe out and picked this winner from a source I no longer recall. I changed the ingredients slightly and adjusted the baking time a bit and after some trials, I got myself a recipe I will stick to for the rest of my life!

These cookies are not sweet. If you like sweeter cookies, don't add more sugar, that may alter their texture; replace half or all of the bittersweet chocolate with semisweet or milk chocolate instead. Another good news is, there's only two tablespoons of butter in this recipe for 12 fat cookies which makes them "healthy"(!).

Chewy Plump Chocolate Chip Cookies (makes 12)

Ingredients: 2tbsp unsalted butter, 115 gm bittersweet chocolate chips (I use Ghirardelli 60% Cacao), 1/3cup plus 1 tbsp flour, 1/3 tsp baking powder, 1/8 tsp kosher salt, 1 large egg, 1/2 cup lightly packed light brown sugar, 1/2 tsp vanilla, 4 tbsp bittersweet chocolate chips extra

Melt butter and chocolate chips in microwave or over simmering water, whichever way you prefer. (I melt mine at 200W 5 min, stirring once halfway) Set aside.
Mix flour, baking powder and salt, no need to sift. Set aside.
Beat egg, sugar and vanilla with electric mixer on high speed till very light and fluffy, about 5 minutes.
Beat in melted chocolate at low speed, then use a whisk to add in the flour mixture by hand.
Stir in extra chips.
The dough will be a bit stiff at this point, use two spoons to scoop out ping pong ball-sized dough on lined baking sheet with 2-3 cm space in between (they don't spread much, so a little space is enough).

Bake in a preheated oven at 180C/350F for 11-13 min. Check a minute ealier as each oven (and the size of the cookies) is different. Rest on the sheet for 3 minutes before transferring onto wire rack. Cookies continue to cook when resting, so don't overcook them in the oven.

Handy hint:
If you flatten the dough a bit before baking, the cookies will come out flatter, otherwise they are plump and fat.
Freeze cookies if can't consume in three days.
For unknown reason, the cookies' taste and texture improve the next day! (scratches head)
Do not use baking or couverture chocolate, it doesn't work in this recipe. The cookies get very hard when cooled.
Don't attempt to use more butter, it hardens the cookies when cooled.

The search for the best chewy CCC recipe is finally over!
---
Back to top