Day Four Lost In The Subway (2005-11-26)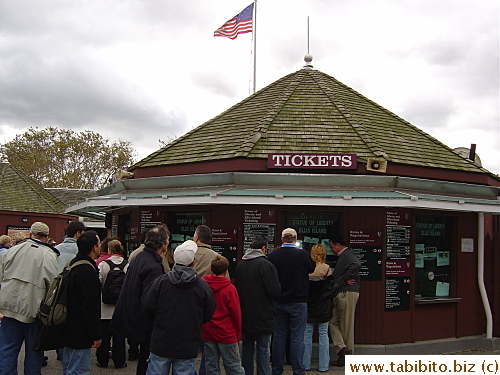 The highlight of this day should have been the Statue of Liberty, but all that was burned in my mind was how we got lost and trapped in the utterly chaotic and unorganized New York subway system.
We left our hotel on W 81 st at 9 am to walk 5 minutes to the station and were still in the subway system at noon!! The train that was supposed to stop at Whitehall station in Battery Park never even went near it. It didn't go the route the train map said it would, how rude! When I was looking at Manhattan from a bridge on the train, KL got very perceptive and said, "We are crossing a bridge". I was equally intelligent and said, "We are not supposed to cross a bridge".

We immediately got off at the next station, found out there was no crossover to the other side, had to get back on the next coming train and encountered more problem before we got on an entirely different line which stopped near Whitehall. The chaos from the sudden change of train schedules was due to construction work which I would accept more willingly had there been ample notice and announcements. Getting stuck in the subway for three hours is frustrating and left us with a very bad impression when we didn't have a favorable one in the first place.

Just past noon, we finally could breathe the fresh air above ground. We stopped by a cafe and had a hot panini for a quick snack. After that we walked to Clinton Castle to get the tickets for the ferry to Liberty Island. The line of people waiting to board the ferry was unbelievably long! It snaked all the way from the dock to the edge of Battery Park. Security check was as tight and thorough as the one required at the airport which I suppose was responsible for holding up the line.

The 20-min ferry ride went quickly and did not give a good view of the city. Liberty Island was smaller than it looked from afar. The Statue of Liberty from a distance was grand and imposing. Up close it loses its awe. We only stayed on the island for half an hour because there was nothing much to see. There was inevitably a line boarding the return ferry and we got back to Battery Park at 4 pm. With the lost train time and long lines everywhere, the Statue of Liberty was not worth our visit. I suspect getting on a Staten Island ferry which sails past Manhattan and the Statue would give a much better view of the famous skyline and monument.

We were hungry when we were back ashore. We stopped at a pizza place near Ground Zero and had the first taste of the ubiquitous New York pizza. It was so good! I could've eaten more but had to exert some self-control to leave room for the next meal. We took a walk to nearby Wall Street area and rode a train to Broadway and eventually meeting Marco in Chinatown for dinner.

Last time we were in Chinatown the sight of HK style BBQ ducks and chicken in many restaurants' windows looked too yummy to pass up, so we decided on that for dinner. We randomly picked a restaurant and had the most delicious duck I ever ate. The skin was crispy and aromatic like a Peking duck. We devoured our food in no time at all.

After that very satisfying meal, we went to another restaurant for Chinese dessert which turned out to be totally forgettable. Then we returned to the hotel. The highlight of this day would definitely be the duck dinner.
---
Back to top