Chinese Soup With Apples (2010-02-15)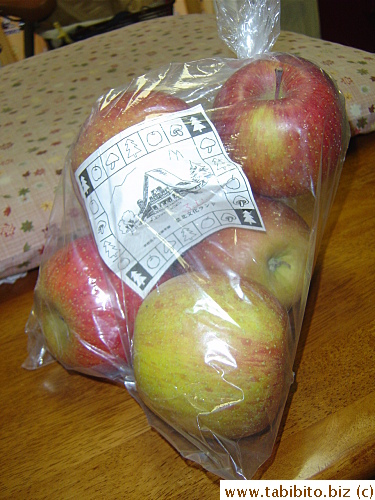 We got a bag of apples from nextdoor neighbor after I brought her some souvenir from Hong Kong when we came back.
KL and I enjoy the occasional apple (like one in a few months!), but we can never finish a bag before they go bad (that's why I always buy apples one at a time). Apple is a fruit that we only eat when "in the mood", without the "mood", we can be staring at a bowl-ful and never want to peel one to eat.

The bag of five large apples are doomed in our apartment, so I gathered some ingredients I had on hand and made a pot of Chinese long soup (the kind that takes 2-3 hours to simmer) and it's pretty tasty and perfect for the cold weather. Because of the apples, the soup will be a little tart and best to be balanced out with some honey (because I don't have Chinese dried sweet dates).

Chinese Apple Soup (serves 2-3)

Ingredients: 2 large apples, 2 large carrots, 400 gm pork ribs, 1tbsp gogiberries, 3tbsp dried lily petals, tbsp dried almonds, 6 dried Chinese apricots, 2 large Chinese dried dates, a small pieceof dried tangerine peel

Wash apples, quarter them and remove core, leave skin on.
Wash and peel carrots, cut into large chunks.
Blanch ribs in boiling water for 10 minutes, rinse and pat dry.
Bring about 8 cups of water to boil, add all the ingredients, keep boiloing for 10 minutes, then simmer covered for 2.5 hours.
Season with salt and sugar or honey. Strain the soup if preferred.

---
Back to top