Trip To Hong Kong (2006-01-23)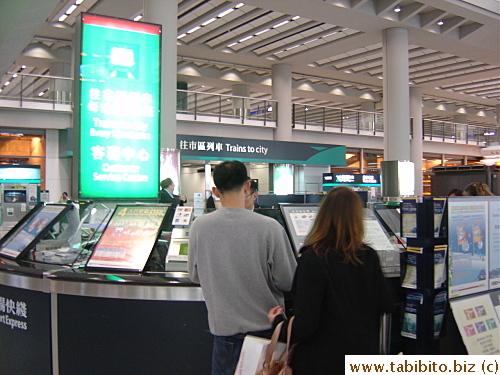 Due to KL's work situation, he had acquired some unexpected leave for two weeks. He asked me if I would like to spend a week in Hong Kong? Would I ever! Who could say no to that?! So we went to my favorite city from Jan 10 to Jan 15, during which time we had four full days to take care of some business and tucked into some favorite food.
Because we had to take our cat to the vet for boarding in the morning and it takes three hours to get to Narita Airport, we had no choice but to take the only available afternoon flight which didn't leave till 6 pm. By the time our plane landed, it was 10:40 pm. There were hordes of people getting off planes around the same time like us and lines were forming fast at the immigration. The line we managed to grab snaked around half a dozen times.

Then Hong Kong's efficiency came to play: The officers were opening new windows faster than our eyes could follow which shortened the existing lines by half immediately. And the officers were super quick! There must have been over 50 people before us in the queue and we only waited for a mere 12 minutes! I was impressed.

After claiming our luggage, we headed straight to the ticket counter for the Airport Express train. There was a short line at the counter and the second we joined it, a staff came to us with a "ticket menu" on a clip board like she was taking order from customers in a fast food restaurant. She was talking at the speed of a freight train and ticked all the appropriate boxes on the sheet in a blink-and-you-will-miss fashion. At the end we were offered the lowest price on the type of tickets KL requested: discounted group package for airport express return tickets with a 3-day MTR pass for each of us. Before we even had time to digest what she said, it was our turn at the window.

After we paid, we thought we'd step aside to examine our tickets so we'd know what to do with them. It was at this moment that the fast-talking lady approached us again and explained everything to us in a slower manner. She made sure we understand what we had bought and how to use them while being very courteous doing so. I was impressed again!

The train ride was smooth and fast. It only took 19 minutes to reach Kowloon Station. We arrived too late to use their free shuttle and had to go to our hotel by cab. There were two staff at the cab line who directed each party to the next available opening slot for a taxi. The line moved quickly and the staff was very pleasant and polite. So far so good. The journey from the airport to New World Renaissance in Tsim Sha Tsui was hassle-free.

The reception staff in the hotel was super courteous who handed KL his credit card back with both hands and head slightly bowed! Just when we thought our first day in Hong Kong was a happy one, our hotel room ruined it.

The door opened to reveal a small room. The ceiling is so low KL could touch it with his hand stretched out. And believe me, KL is NOT a tall man, if he can touch the ceiling, a tall person will have to walk around the room head ducked.

Then there's this weird placement of the bed which is right by the door. There's no room for any bedside table there. Since that's the side I slept in, I had to prop my bottled water against the bed head for storage because I didn't want to walk to the desk across the room everytime I wanted to take a sip. It's just ridiculous. And this hotel charges more than Sheraton, what a ripoff!

The room also felt like a cold storage. KL turned the thermostat to the maximum of 30C (86F) and we were still shivering! After I pulled the bedspread off the top of the TV and lay it on the bed, it felt a bit better. But we still went to bed huddled together, cold and hungry.

PS: MTR has a super bargain deal for groups of two or more. Return tickets by Airport Express plus an Octopus card for a 3-day all-you-can-ride MTR and HK$20' worth on buses, ferry and trams, plus you get a refund of HK$50 plus the amount not used on the buses part when you return the Octopus card at the airport upon departure, all for only HK$300 per person. According to their official website (www.mtr.com.hk), that's the deal you get; but KL and I bought ours at a promotional price of HK$290 plus each of us got a refund of HK$100, so essentially we paid HK$190 each for all the rides we took. We scored big!
Offer only available to tourists.
---
Back to top