Ginza (2004-04-26)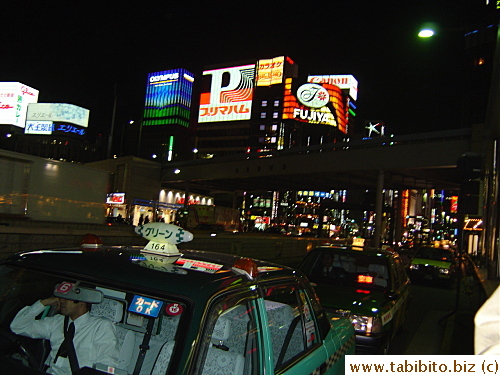 Ginza (
) in Japanese means "Silver Seat" and is a ritzy district known for its upscale shopping. There are several department stores and many designer shops in the area. Most Japanese women who go there are often dressed nicely with impeccably-applied makeup. Although I don't walk the streets in jeans and T-shirts, sometimes I feel somewhat self-conscious surrounded by smartly-dressed women browsing the department stores there. Fortunately the staff never give you any disapproving look, they treat every customer the same no matter how you dress.
Ginza used to be the most expensive piece of real estate in the world. I don't know if it still is with residential and commercial real estate prices in Tokyo falling the way they have the past years. Anyway Ginza remains to have some very pricey stores and restaurants. KL's friend treated us afternoon tea at a cafe there once and his coffee cost 900 yen (US$9)a cup, but our window table did give us a very nice view. Shiseido, the cosmetic giant, has a multi-story building in Ginza in which the top floor serves as a restaurant. Its seafood curry with rice will fill your stomach but empty your wallet of about a hundred U.S. dollars.

I know Japan's economy is still in recession but you wouldn't know it if you look at all the expensive stores and their customers in Ginza. High-end restaurants are still filled with diners happily tucking into lobsters and foie gras. Expensive European cars still cruise the streets lined with designer stores. May be Kinza (Golden Seat) is a more fitting name for this posh district.
---
Back to top