Gotemba Premium Outlets (2007-06-07)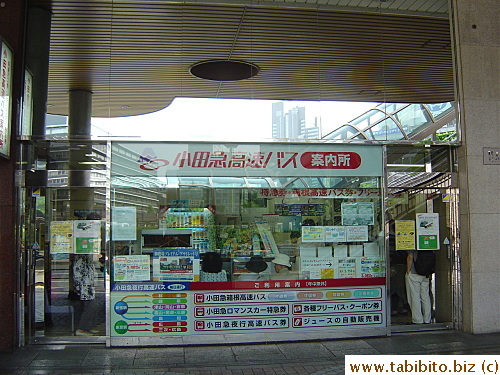 We had been meaning to go to Gotemba years ago but ye know, the thought of getting up at the crack of dawn to
go shopping
is as attractive to us as eating pureed baby food. It takes a lot of determination and un-laziness for us to get out of our comfortable bed at half past six in the morning to catch the 8:30 bus out of Shinujku. But get up we did.
We made it to Odakyu Highway Bus ticket office around 8:20 am to purchase our tickets. The bus pulled up at the stop (which is right outside the office) ten minutes before departure time and passengers filed orderly onto it. At 8:29 the driver who was dressed in his crisp uniform went to the head of the aisle, took off his hat , made a deep bow to the passengers and bade everyone an enjoyable ride. Right on the dot at 8:30 am, we rolled out of Shinjuku (
).

The bus made several stops on the highway before we finally got off at Tomei-Gotemba (stop) at 10:10 am. There we waited for a little while for a free shuttle bus to take us to Gotemba Premium Outlet.

At first glance the outlet looks big with 170 stores (it says so on the web site). But after we had finished going into almost every single shop AND ate lunch, all before a quarter past two, we came to realize how small this famous outlet mall is. Since our return bus didn't leave till 4 pm, we had to sit in the food court to kill time.

Overall it is a disappointing day. The small-sized shops and scarce stock did not meet our shopping needs. KL had wanted to get some shirts, but all he got was a dress shirt from Brooks Brothers and a casual shirt from Timberland, both of which weren't greatly discounted as anticipated (about US$60 each). I got a house dress for 10 bucks which is the only thing that befits an "outlet pricing".

Don't expect the merchandise to be very cheap there 'cause they are not. Most of the stuff is perhaps just slightly cheaper than what you'll pay in Tokyo, plus many items are off-season or leftover stock in unrealistic sizes. I saw a coupla tops and dresses I liked, but who could fit into a size 0 or 2? (I wish I could, but I don't think I stand a chance in this life time) Then there were those "New Arrival" baby doll tops which are all the rage at the moment at about US$150-200 a piece. I can't say they're any cheaper than those sold in Shinjuku.

GPO must be very popular among Hong Kong tourists as evidenced by the bilingual announcement there in both Japanese AND Cantonese. It wasn't English or Mandarin, but Cantonese! We also heard Cantonese spoken around us in the outlet and on the bus. I wonder what Hong Kongers think about Gotemba since clothing is so much cheaper and cuter in Hong Kong than similar items sold in the outlet? Do they think it's a waste of time and (bus) money to go to GPO like we do?

Return bus ticket per adult from Odakyu 2900Yen/US$24
---
Back to top