Peck (2008-12-23)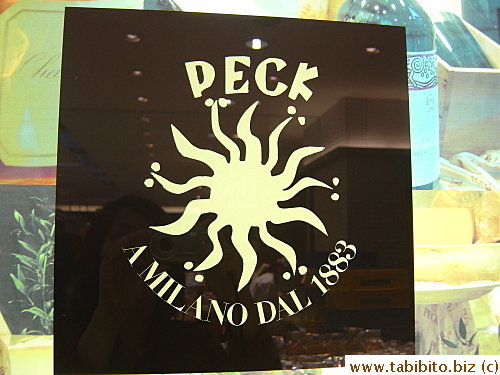 Peck, exclusive to Takashimaya (
), is a direct import from Milano which, like its parent company in Italy, sells gourmet food.
Peck in Takashimaya Shinjuku (
) comprises of a delicatessen, a grocery section, a bakery and a cake section, all of which are tiny. What brought my attention to the store several years ago was the bread. Their selection is limited but most of it is YUMMO, especially the leaf-shaped plain bread rolls made of olive oil. I can't describe the texture, but after reheating to crisp up the "shell", the bread has a crumbly and crunchy outside, almost like a dense, dry and crisp shortbread and full of mouthwatering aroma of toasted wheat. The inside is fluffy and has a cotton candy feel (cottony?) which you can peel off in sheets. These bread rolls used to sell for a buck each many years ago, and although the price has gone up over 33% recently, it hasn't stopped me from going back again and again for more.

While buying a truckload of the bread rolls one afternoon (they are only available after 2 PM), KL noticed the food in the deli section and suggested we bought a Trial Set which essentially is a sampler plate of many food items they sell, and an Arancini.(http://en.wikipedia.org/wiki/Arancini)
We didn't expect a lot from the set, but boy oh boy, was it delicious! The food was made from high quality ingredients and tasted superb. I loved 98% of the selection in the tray (the fried potato thing was just ok), but a few particular items were so good that we plan to return to get some more such as the deeply fragrant duck breast, the excellent salami, the sundried tomatoes, the green and black olives, the guacamole thing, the saucy meat patty and Arancini.

Peck has long become our favorite bakery and now our favorite deli too.
---
Back to top