Afternoon At 1881 Heritage (2010-01-25)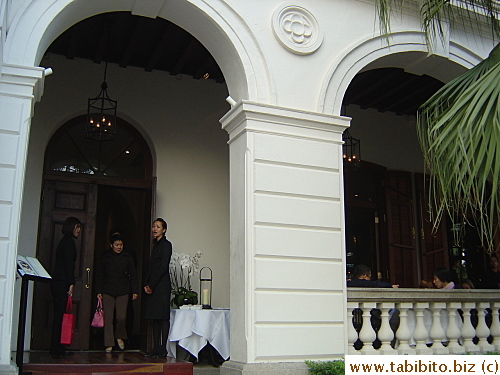 After the dim sum lunch, KL and I met up with Rick, one of his highschool buddies, in 1881 Heritage to have afternoon tea. My stomach wasn't feeling very well that day so I declined any more food before dinner, but KL said he was feeling hungry; and so soon after all that dim sum! Rick also just had a buffet lunch but he said he would share some food with KL if he ordered the afternoon tea set.
The parlour is one of several posh restaurants belonging to the Hullett House (hotel) in 1881 Heritage which provides alfresco dining. The interior is very Chinese-inspired while the verendah tables are more westernized. An afternoon tea set for one runs at HK$248/US$31 and coffee at about HK$50/US$6 a pop. KL gave the drinks that came with the set for me which I chose a house-blend berry tea (don't remember the name).

According to KL, the sandwiches were okay, but the clotted cream/raspberry jam/scone combination was great; and the heart-shaped cake was also excellent. Overall, the price of the tea set does not justify the kind of food served especially when the view, which accounts for half of the price, is obstructed by the butt of Hong Kong Cultural Center.

the parlour Hullett House Main Building, Canton Road, Tsim Sha Tsui Tel: 3988-0101
---
Back to top