Maxwell's Bar & Grill (2010-11-21)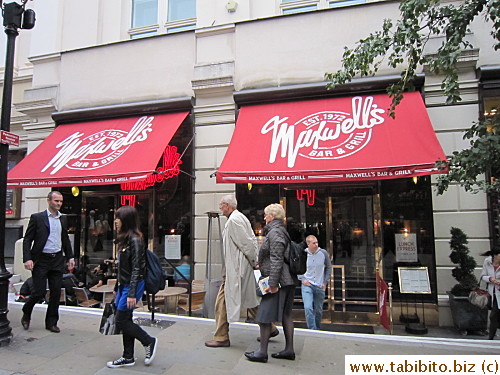 There are tons of restaurants in Covent Garden, it's hard to decide on one. Maxwell's is an American style restaurant that has just the thing KL wanted for lunch: burgers.
The decor is very "American" with cushioned booths, wooden paneling and dim interior. Our Server was amicable and efficient. The food arrived pretty quickly too.

The starter: fried squid was crunchy on the outside and tender inside, we loved it. KL said his burger was alright but a tad dry. My steak sandwich, although chargrilled to a good medium, was tough on certain places. The serving was huge, typical of American restaurant portion.

Maxwell's Bar & Grill 8 James Street, Covent Garden www.maxwells.co.uk
---
Back to top