Pampered Pooches (2004-04-27)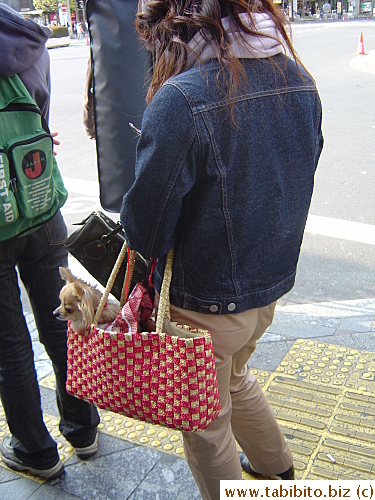 The amount of money and effort some Japanese spend on their dogs is mind-boggling. Some dogs are truly expensive. A miniature dog with brown curly hair I saw in a pet shop sold for a whopping US$12,000. I don't care how unusual that breed is, but you can get a car for that price. And the accessories people cover their dogs with are also amazing. Designer collars are quite popular among well-to-do owners, some even put genuine jewelry such as pearl necklaces and gold chains on their pets.
When it comes to food, there is the essential top-grade meat for those spoiled pooches as well as doggy desserts,cakes and cookies that one can buy at special pet shops. Some restaurants welcome canine diners as much as they do humans which of course have separate menus for dogs. Now that you can eat with your dog, sleep with your dog, why not bathe with it too? There are onsen (hot-spring) resorts that cater to such need. A love-struck master can now enjoy a nice hot bath in mineral rich water with their pet.

Well I guess when you have more money than you know what to do with it, you might as well spend it on your beloved pooch. It makes the owner happy, boosts the economy and benefits the dog (most of the time). It is true that in much of Japan, a dog's best friend is man. Woof!

Final note: Please consider adopting a pet from your local pound or animal shelter before spending hundreds or thousands of dollars buying one. Stray dogs and cats need a loving home and your help, give them a second chance in life and give yourself the chance to save a life.

---
Back to top