Day 2--Bagel, Katz's, Chelsea Market, Congee Village (2008-06-28)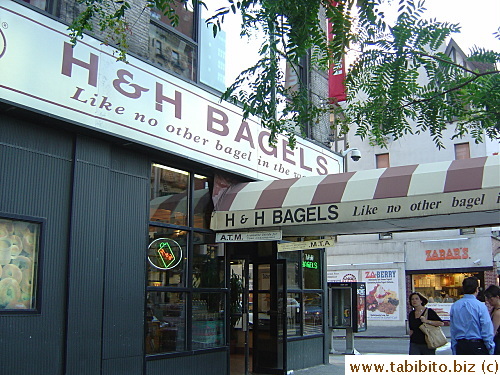 Because of the darned jetlag, there's no difficulty "getting up" at 6 to go find breakfast. Touted to be the best bagels in NYC by many people including Giada De Laurentiis of the Food Network, we hopped over to
H & H
to sample their famous bagels. There's no seating in the shop, so we took our purchase and walked down the side street to Riverside Park to eat our breakfast. The bagels were still warm when we started digging into them, the crust was thick and crunchy and the inside chewy. The bagels I make at home have a thinner crust, but everything else tastes the same! I don't know why bagels are so revered over there, it must be a New York thing.
After our breakfast, we did more people and dog watching at the park before heading back to Times Square and did a bit of grocery shopping at the supermarket just five minutes on foot from the hotel. Then we went to the Apple store on Fifth Avenue and who did we see there outside the store? Why, it's the Early Show crew! I know it's silly to say that seeing Harry Smith and Julie Chen up close made my day, but it did!

We met with Marco outside Katz's for lunch. Last time we missed out on this world famous pastrami sandwich, this time we made sure we didn't (I'll report on the sandwich tomorrow). I was surprised to see Marco's long hair gone and I was surprised to see him stay so fit! KL and I look like two hippos in front of him!

Marco, forever the sweet and thoughtful guy that he is, handed KL a cell phone, a NYC guide book and a notebook full of handwritten details of all the places we planned to go as soon as we sat down. That is so touching and of course much appreciated.

After lunch, we went to Chelsea Market per my request. Being a food lover, I just thought it's the perfect place for me to browse around. The number and sizes of the stores inside were fewer and smaller than I expected, so there's plenty of time left to take a stroll around the area.

Afterwards, we also made stops at Balducci's, Starbuck's, Bed Bath & Beyond and The Container Store before going to Chinatown to have dinner. KL wanted to return to Congee Village to have congee which we also missed out on last time.

Day 2 ended with a full and satisfied belly and possibly 2 pounds heavier.
---
Back to top