Katz's Delicatessen (2008-06-29)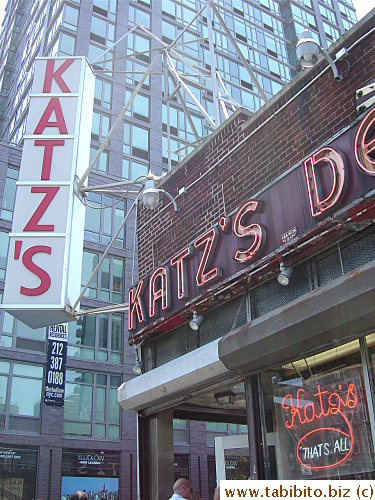 After reading and seeing so many pictures of
Katz's
, it felt surreal stepping inside and seeing it in person for the first time. The restaurant wasn't full like I had expected and the tables by the wall were suspiciously empty. Only after we sat down at one of those tables did we realize it was a "waiter service only" section, hence the rejection by 99% of the diners. Our waiter was a funny theatrical chap who talked about their sandwiches like a Broadway performer.
We thought the sandwiches were giant-sized, so KL ordered one to share with me. Marco opted for the Matzo ball soup which turned out to be not so good. Our classic Hot Pastrami on Rye was on the other hand a winner. The pastrami was nothing like I had before, theirs was warm, moist, flavorful and juicy. It's expensive at $14.95 a pop (not giant-sized at all), but I'm glad I tried it.

One thing that strikes me as interesting is the pink ticket each customer is given upon entering the restaurant. You should hold on to it with your dear life, cause if you lose it, it's subjected to a $50 fine! Although KL doesn't think they can ever enforce that "law", it's best not to lose it. They might get very upset if you do.

Thank you Marco for buying lunch!
---
Back to top