Dim Sum In Hong Kong (2006-01-25)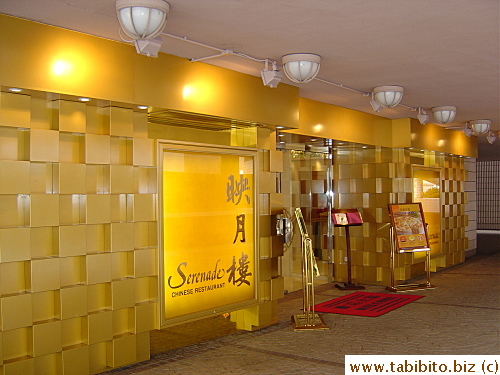 KL and I must be suckers for dim sum. Out of the four days in Hong Kong, we ate dim sum for lunch TWICE. To me, Sydney's dim sum can rival HK's; but we are from Tokyo where the so-called dim sum is a joke, so we can never resist the temptation of stuffing ourselves at a Yum Cha restaurant while in Hong Kong.
We went to Serenade and Mu Dan Ting. The former was within easy walking distance from our hotel and we'd seen it feature on a travel show, so we decided to try there. To our surprise they offered half price on every dim sum from 8 am-12 pm (We arrived at 11 am). The dishes were all great (except the steamed pork bun, which was OK) and incredibly cheap compared to what we have to pay in Tokyo.

Serenade also offers spectacular harbour view. It is a joy to eat delicious food while looking out the wall-to-wall windows at Victoria Harbour.

Mu Dan Ting was a fluke for us. We hadn't planned on having dim sum the day we walked past the building where the restaurant is housed. A staff was handing out dim sum menu to passersby and touted free tea charge. So we made an impromptu decision to have an early lunch there.

To add icing on the cake, we found out that the restaurant also offered half price to many dim sum dishes (10 am- 11:45 am), which led me to think that perhaps it's common practice for Yum Cha restaurants to offer half priced dim sum for early birds.

The prawn dumplings and steamed beef rice rolls were even better than Serenade's. There were many other dim sum we'd love to have tried but too full to do so. It is often at such moment that I wish we live in Hong Kong.
Serenade Salisbury Rd, Tsim Sha Tsui Hong Kong Cultural Center 1/F
Mu Dan Ting 2/F, HK Pacific center, 28 Hankow Rd, Tsim Sha Tsui

---
Back to top