Laksa Plus Curry Chicken Equals Yum To The Power Of A Thousand (2007-09-21)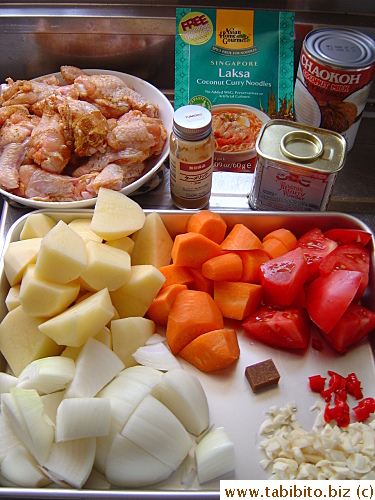 I finally made curry chicken using the Laksa mix my sister Serlina sent me. I used drummets, potatoes, carrots, onion, garlic, chili, and tomato (only because there's a half tomato leftover from lunch) for the curry, and added extra curry powder, tumeric, a stock cube, salt and coconut cream to supplement the seasonings.
After simmering for 90 minutes and a final stirring of coconut cream and a bit of cornstarch paste, we had ourselves a big pot of thick, spicy and aromatic curry. IT WAS DEEEEEE---LIOUS! This is far better tasting than any other kind of curry mix (including Thai red and green curry mix, Singapore curry mix, Indonesian curry mix, Malaysian curry mix, Penang curry mix, and Rendang mix) I've tried.

---
Back to top