Crowne Plaza Times Square Manhattan--so not 4-star (2008-06-26)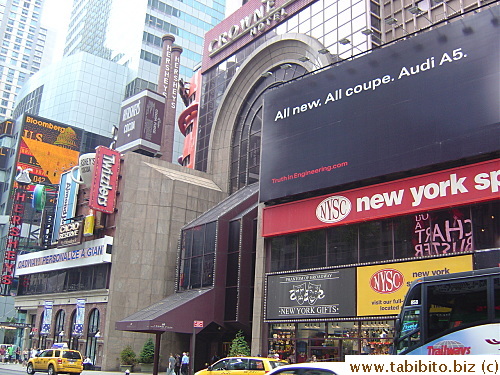 If Crowne Plaza is rated 4-star, two of them went straight to location and location. Apart from being smack dab in the theater district in Manhattan with access to every subway line in the numerous stations nearby, there's not many good things I can say about the hotel.
Firstly, the hotel is under renovation which means drilling noise all day after 10am. If you wanna take a nap to combat jetlag like I did, forget about it. The staff wasn't rude but certainly wasn't amicable. The "bouncer-type" staff inside the entrance who checked room keys were mostly angry-looking.

Our room was as run-down as a dinky motel room. Although the size is reasonably large, it was in dire need of a make-over. There were stains all over the carpet, wall paper peeling off, scratches in every single table surface and rust in the bathroom. It was fortunate I found ants on the bathroom floor and not roaches. Amenities were inadequate with no shampoo given the first two days, and it's not like we didn't leave a tip for the maid, this one who made up our room the first two days just did not love us.

The worst thing about the amenities was that there's no bar fridge! I thought it's a given for hotels in big cities to have a fridge in the guest rooms, so I hadn't bothered reading too carefully about the hotel's website while in Japan. The lack of a fridge had proven to be totally inconvenient. We couldn't get perishable food for next day's breakfast or dessert. I couldn't get vegetables I wanted to bring back to Tokyo on the days I saw them fearing they'd wilt and rot sitting in the room for days. And I couldn't go back to all those grocery stores on the last day due to time constraint.

There's also no way to adjust the air-conditioning, you just have to take what they give you. Fortunately it wasn't freezing or smoldering in the room although KL did find it cold at times.

For the kind of money they dare to charge you, this hotel does not deliver.
---
Back to top