What's Been Happening The Past Two Months (2012-04-21)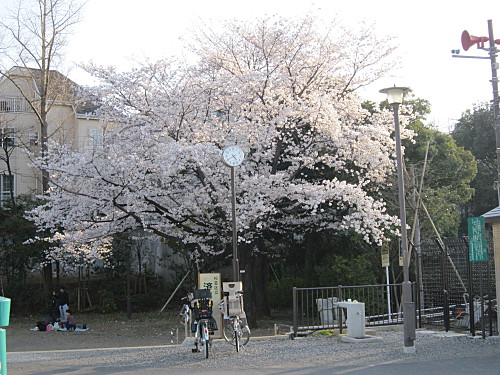 Due to the very long Hong Kong travelogue in the past six weeks (phew!), I'm just only able to post some belated things now. Here's what's been happening:
When cherry blossoms were in full bloom in early April, we didn't go to popular viewing spots (such as Ueno (
) Park or Inokashira Park) to see them. The crowds were just too much to endure. In stead we took a stroll in our neighborhood and other suburbs and there are plenty of individual cherry trees tucked inside local parks and alleys. They were just as pretty. Efoo did his own ohanami (cherry blossom viewing) right from our upstairs balcony, heehee.

Valentine's Day and White Day came and went. KL got some nice chocolate from his female colleagues and of course he had to return the favor a month later.

Finally on 2/29 having just returned from Hong Kong, we were welcomed with the biggest snowfall in Tokyo this past winter. Rain and snow fell alternatively all day so there wasn't a big accumulation of snow but there's still a 6cm's worth on the ground at the end.

End of report.
---
Back to top