Visiting Cousins/Sushi Restaurant (2006-04-05)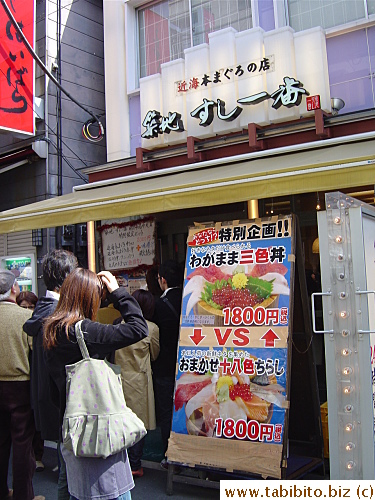 My cousins and a couple of their friends came to Tokyo for a visit recently. The older cousin called us up and we had a lovely day having lunch and shopping together.
First we went to Tsukiji (
) for lunch because all of them wanted to have sushi. Since I don't eat raw meat, KL and I would normally never go to a sushi restaurant. Therefore the pictures of today which show the inside of a real sushi restaurant and made-to-order sushi are a rarity in Tabibito. We ordered a whole lot more dishes, but it's hard to take photos of them all since we were seated at the counter and I couldn't keep track on what the other had at the other end.

My cousins and their friends really enjoyed their food and I liked mine too ( I had sushi with cooked seafood topping of course). After lunch we walked around the area only for a little bit because the market was closed that day and so were most shops.

Then KL took them to Biccamera where my second cousin bought a PSP. He had to go home after that to work on the project he brought home. So we parted in Shinjuku (
) and I went with the group and did more shopping with them. The shops they were most eager to check out were drug stores! They went inside every one we walked past and bought heaps. Around eight we said our farewells to each other before they headed back to their hotel in Shinjuku.

My two cousins didn't look a day older than when I last saw them, especially the younger one whom I hadn't seen in 13 years. And it was the first time I met the older cousin's 16-yr-old son on that day. It's nice to see old faces as well as new ones. The kid reminds me how much older I have become.
---
Back to top