Day 1--L'allegria (2008-06-27)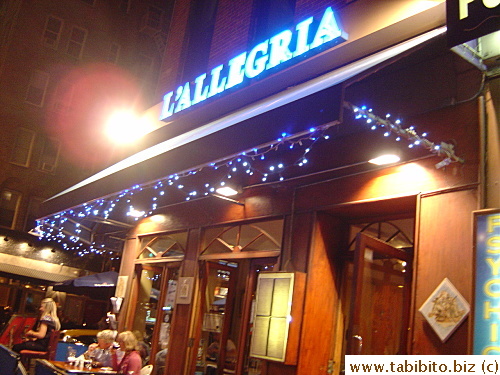 Day one didn't start off till late. By the time we had settled in the room, it was close to 8:30 pm. I had planned on going to Buchon Bakery in Columbus Circle but they closed at 9, it'd be a bit of a rush to get there. So we opted for Italian food.
Being new to the hotel area, it took us a while to find the right station to go to L'allegria. This restaurant had good review on Citysearch, I thought I'd picked the right one to start our trip.

Walking to the restaurant from the station led us through some dark and seedy neighborhood with men idling on the sidewalk looking threatening and murderous! As we neared L'allegria, the streets began to get brighter and busier, whew!

Much to my surprise, there were only three occupied tables (plus some out front) when we arrived. I didn't think 9 pm was that late for dinner. The lone lady server was all nice and good but her attitude started going downhill once we told her "we don't drink" and only ordered a salad and pasta. She had questioned us if that's enough and our answer did not please her.

Service was cold, water was not refilled and we felt despised. As for the food, KL did enjoy his Lobster Ravioli but my Fusilli Putanesca was a disaster. First of all, the dish wasn't made of fusilli, it arrived with penne. Not that I mind penne, but no explanation or apology was offered. Then, the large amount of deadly salty olives, capers and anchovies in the dish made it almost inedible. I could barely pick at the pasta (without the sauce) and not suffered a sodium-induced death.

When the check came, the restaurant had arbitrarily slapped on a 20% tip on the itemized list. Their service wasn't even worth the standard 15%, much less a 20%. After KL paid the bill and took the receipt left in the folder, the lady server nearly had a fit! Her temper shot up as she frantically looked for the receipt and almost yelled at KL!

Not that we live in NYC and can revisit restaurants freely, but L'allegria is blacklisted forever.
---
Back to top