Day 3-- Breakfast at Grand Central Station, Nougatine, Fifth Avenue, The E.U. (2008-07-01)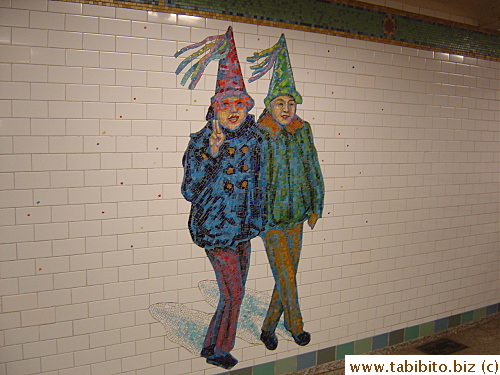 Again, jetlag meant we woke up around 3 am and
stayed up
. For breakfast, I decided to take KL to Grand Central Station to try Joe's
Joe's Coffee
. I think he liked it, but not wowed by it. We also shared a panini from Zaro's Bread Basket which was the perfect portion without getting too filled up before lunch.
Lunch at Nougatine was sensational, I think everyone enjoyed their food. After that fulfilling meal, we took a stroll to Fifth Avenue and did some shopping before going to the Lower East Side where dinner's to be had.

Marco was gonna show us around but weather turned ugly and it looked like pouring rain was about to fall. We quickly took shelter at a coffee shop when the sky started to pee and stayed there for almost 2 hours to wait out the thunderstorm and downpour that followed!

By the time the rain eased up, our dinner reservation also drew near. We took a short walk to The E.U. and had some fantasic food. Despite the multiple reviews about poor service, our server was just lovely and so very friendly. Glasses were refilled promptly and we were greeted from the minute we walked into the restaurant till the time we left.

There're no pictures of the entrees due to the extremely dark environment; so dark that there could be bugs in the dish and you'd never know. I didn't want to use flash which might bother other diners, therefore I could only show you what we had for appetizers whose pictures KL took. I suppose I could adjust the light exposure to take photos of the entrees, but hunger and eagerness to dig into the food meant "sorry, no pictures for you!".
Thank you Marco for taking us to a wonderful restaurant and treating us!
---
Back to top