Flea Market Les Puces de Montreuil (2010-12-18)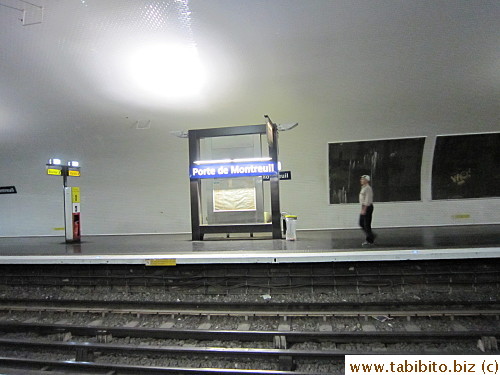 Oct 9, Sat.
We are not flea market lovers or bargain hunters, but flea markets in Paris seem to get many locals and visitors excited so we would like to see what it's about.
Les Puces de Montreuil is very easy to go from our hotel. Metro number 9 line runs through Saint-Augustin station so there's no need to switch train. Twenty five minutes of train ride and about a 10-minute walk from Montreuil station is all it takes.

The first stalls that came to sight were clothing, accessories, tools, and some kitchenware (there's cooked food stalls at a distance but too lazy to check them out since we weren't hungry). This is the kind of merchandise that bores KL to death. He likes a good bargain of quality stuff, not easily found in a flea market. After about 20 stalls (perhaps 1% of the area), we gave up!

There's a small shopping center connected to a very large Carrefour hypermarket nearby, so we went there instead. It's an old center with little to see. Shopping mood still strong, we decided to head back to Boulevard Haussmann to browse in department stores.

Les Puces de Montreuil Opens Sat, Sun, Mon 0730-1930 Metro: Porte de Montreuil
---
Back to top