Chartier (2010-12-17)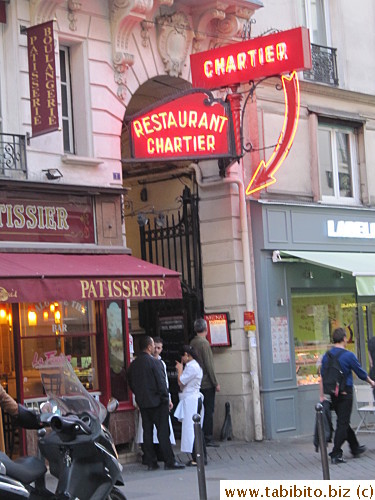 Chartier is the most recommended and most famous restaurant we went to in Paris, has the friendliest waiter, but served the WORST food!
The restaurant itself, over 100 years old, is very charming and picture-worthy. It is also very cheap (in Paris standard). Our server was crazy funny and animated like he's a comedian. Since he did not speak much English, he'd explain the menu items to us using funny gestures and motion such as bending forward and flapping a hand back and forth on his buttock to simulate a fish tail. He made us laugh so hard! When he saw me take pictures of everything, he immediately put an arm around KL and posed for me with a thumbs-up sign (but I couldn't quite get that shot).

If only the food could match the service! First of all, the starter and main came all at once, probably an "anti-French eating" procedure. The foie gras was good but the one we had over lunch the next day really put this one to shame.

KL's whole fish dish was dry and SO FISHY that it turns off your appetite, not enhance it. Since I had such great experience with duck confit the other day, I thought I'd try Chartier's version. Big mistake! The duck was very dry and tough, not melt-in-you-mouth tender at all.

Maybe we didn't order the really good dishes? (I heard that beef stew and steak frites are good) How else can a restaurant survive more than 100 years with food quality this low? Novelty alone can't do it.

Chartier 7 rue du Faubourg Montmartre Metro: Grands Boulevards
---
Back to top