The Cheesecake Factory (2006-11-16)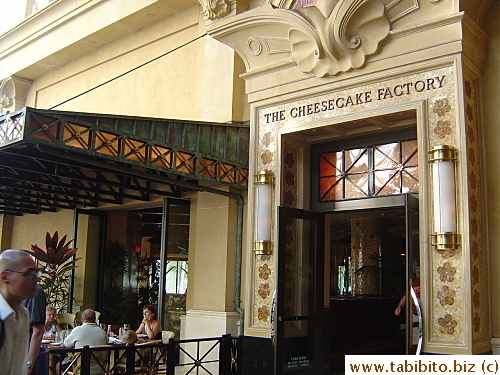 As its name suggests, The Cheesecake Factory specializes in various types of cheesecakes and they were promptly displayed in their chilled case when you step inside the restaurant. Fortunately they also have an extensive menu featuring various appetizers, entrees and specials. From fish tacos to Chinese dumplings and steak, we had a tough time deciding what we wanted. So many dishes, so little time!
After perusing the menu for a very long time despite our starving stomachs, we chose none other than burgers. Man, are we boring or what? I picked the BBQ Kalua Pork burger while KL had the Kobe Burger. The burgers were ginormous and came with a mountain of fries. The chopped lettuce, tomato slice and onion were set aside for self assembly, a practice common in many restaurants which baffles me. KL said it was for people who don't like the veggies and would have a choice to leave them out. There are people who don't like lettuce and tomato with their burger? Wow.

My burger was good but not great. I liked the brioche bun which was toasted to a delicious crispiness on the edges. The pork was tender but bordering on the dry side although the platter did come with a dish of extra BBQ sauce. So maybe I was just finicky.
KL's burger was made with American Kobe beef and arrived pretty well done despite his ordering of medium. We split our burgers in halves and shared it. The overcooked patty was just fine with me as I prefer to eat ground beef fully cooked. I tell ya, Americans know how to cook their burgers! The patty was full of smoky flavor and dripping with juice. I don't know if the juice was from the patty or the sauteed onions and mushrooms, but it was dripping juice all over the place. It was messy but awesome!

The fries had that winning duo factors of crunchy exterior and fluffy interior without tasting heavy or greasy. Just so good. I wish I could finish all the food on my plate as I hate to waste food, especially the excellent fries.

As much as KL loves cheesecakes, he's too stuffed to even think of dessert. Didn't have time to return to taste their famous cheesecakes as we were leaving tomorrow. Why couldn't we find this restaurant earlier?

The Cheesecake Factory 2301 Kalakaua Avenue Located at the Royal Hawaiian Shopping Center
---
Back to top