Red Tiger Dumpling Room Restaurant (2006-11-26)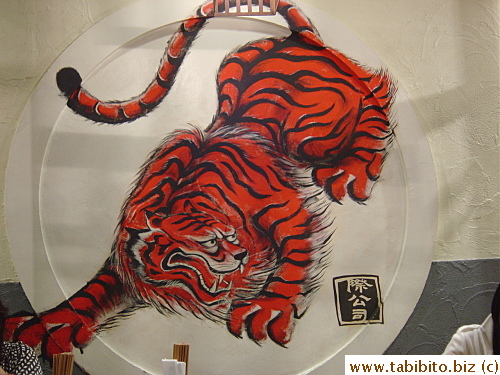 I know I talked about
Red Tiger Dumpling Room restaurant
before, but the pictures I took then weren't too good. This time we ordered different food (except for the chive dumplings) and took better pictures, so I'll review this restaurant a second time.
We ordered some appetizers and a bowl of Spicy Szechuan noodles with black sesame seeds to share between KL and myself. Funnily the noodles arrived first, so we dug right in despite it being an entree/main. The soup was a dark brown concoction tasted of sesame paste and chili oil. It could be a tad spicy for the regular Japanese palate but okay for me whose mouth lining could tolerate a lot more heat. The noodles were cooked to the right texture without being too al dente or mooshy. But the soup was over seasoned and required me to down more water than I would normally consume in a restaurant meal to quell the saltiness. Overall it was a tasty bowl of noodles but they need to go easy on the salt and also increase the serving size. The amount of noodles is barely enough for one, making it a bit pricey for the quantity you get.

The much anticipated chive dumplings arrived next. I split open one of the three to take its innards photo and to share it with KL. It tasted odd. Like left-over. Like it's been made the day before and left on the counter for hours and then zapped in the microwave to just warm through before it reached my taste buds. What happened to the piping hot crunchy prawns and fragrant chives we had last time? All the deliciousness from past memory was gone. Very disappointed. But then we ate the remaining ones on the plate and all the glory of the previous dumplings with piping hot crunchy prawns and fragrant chives flooded back. Those two dumplings were fresh and tasty, just like last time. So I guess five very good dumplings out of a total of six in two dumpling-eating experiences still makes this appetizer a worthwhile order.

The seafood spring rolls were the star of our meal. They were non-greasy, crunchy and delicious. I could've eaten tons of them. The last dish to come was their famous pan-fried dumplings served in a sizzling hot plate. The skin was crackly crispy and the filling which was made of ground pork, veggies, rice vermicelli and scallions was well seasoned and juicy. Good dumplings overall.

There are a lot of other choices on the menu I'd like to try. Next time I feel like Chinese (which is not often that I do in Tokyo), I'd want to go back and perhaps I'd get the chive dumplings again.

Red Tiger Dumpling Room
Kichijoji (
) JR station Lonlon mall
B1F Dining Street
0422-23-3250


---
Back to top