The Chocolate Of DOOM (2007-06-16)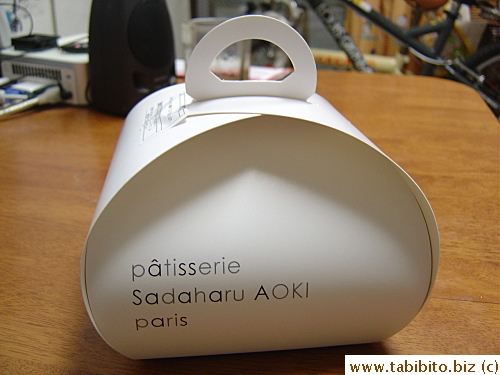 Now that KL knows
Sadaharu's patesserie
is just a stone's throw from his office, he's been tempted to bring home a cake or two from them after work. And that is exactly what he did last week. He bought one of the signature items of the pastry chef's creation, the Dome au chocolat.
The pretty cake presented in its pretty box is what its name suggests: a chocolate dome. The cake rests on a crunchy cookie base, stuffed with chocolate mousse (and possibly some other types of flavors too) and the whole thing is draped in a velvety soft dark chocolate coating. A few shards of chocolate and a split toasted almond finished the decoration.

I tried a small bite and it almost threw me off my chair from its super buttery taste. The mousse part is veeeeeeeery BUTTERY and rich, it's like I was chewing a solid block of hard butter flavored slightly with chocolate. Knowing how I don't like strong dairy flavor, this cake's definitely not for me.

The Dome au chocolate is the ultimate chocolate of death, the Doom au chocolate.
---
Back to top