Patisserie Sadaharu Aoki (2007-05-16)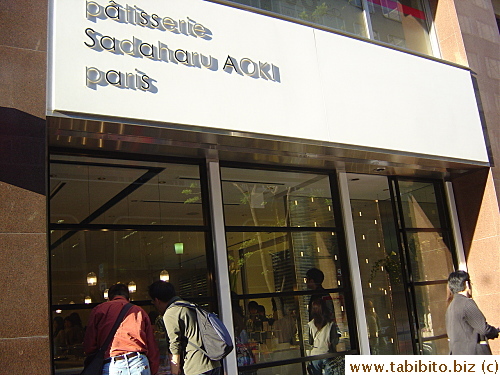 You can learn all about the renowned pastry chef Aoki who is based in Paris on his web site www.sadaharuaoki.com. To say he is passionate about his work is an understatement. Aoki devotes his whole life into creating the perfect French pastry with a Japanese influence. Green tea (Maccha) is heavily featured in his cakes which exude a zen like appearance.
One of his shops is close to KL's office, so we stopped by so Samuel could grab a signature cake of his before bringing it back to the office to devour it. Since I am not really into cakes, I got a Dacquoise. I've never seen it before and I suspected it's like a macaron with a twist.

The Trio that Samuel got is a log-shaped cake made up of different layers. I didn't copy the names of each layer but there's some chocolate, ganache, apricot coulis, dacquoise and feuillantine pralinee that's stacked and buried inside the cake.

My Dacquoise tasted like the classic macaron. In fact I couldn't discern a significant difference between the two except their shape. The cookie in the Dacquoise was light, delicate, crispy and crumbly with a slightly chewy texture inside. The stuff (Yeah, no idea what exactly it is and certainly no idea what it's called) sandwiched between the cookies wasn't too sweet with a very subtle chocolate taste.

Samuel and I liked our treats but they were a bit expensive. I suppose we deserve a treat ocassionally, don't we?

Patisserie Sadaharu Aoki Paris 3-4-1 Shinkokusai BLD Marunouchi (
), Chiyoda-ku Tokyo Tel. 03-5293-2800 Mon - Sun. 11:00 - 21:00
---
Back to top