Ramen Dinner, Fabulous Dessert (2009-04-06)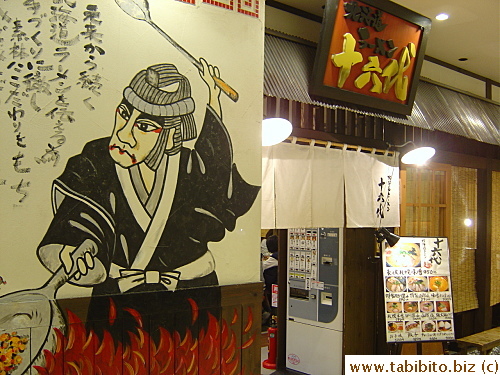 After a good rest at Cafe de Anri, we met up with Serlina and David who had spent the day exploring Osaka and Umeda Stations. Serlina suggested finding dinner on the restaurant floor (8th) of
Yodobashi
and we settled for ramen.
Ramen Jurokudai was the only restaurant with empty tables and their ramen pictures looked enticing enough for us to try. We all ordered the same thing (again!): Shio-ramen (salt ramen), but the soup wasn't the clear broth one, it was the thick pork bone type which was delicious. The noodles were springy, the chasui very lean and moist and the egg yolk had a natural sweetness to it, it was 890Yen/US$9 well spent.

One floor down is dubbed "Sweets Museum" with 16 shops/restaurants selling sweets and desserts. The modern and bright La Creation de Gute and its colorful and beautiful dessert photos on the menu were very appealing. The servers were over-the-top courteous and the desserts were fantastic. If you factor in the environment and a cup of coffee at any coffee shops costs around 500Yen, the prices at La Creation de Gute are actually very low.

I'm glad Serlina and David found Sweets Museum during the day, which enabled us to have a really great dessert and chat time after dinner.

La Creation de Gute 7/F Yodobashi in Umeda Tel: 06-6486-2150
---
Back to top