Things We Brought Back From Malaysia (2004-11-04)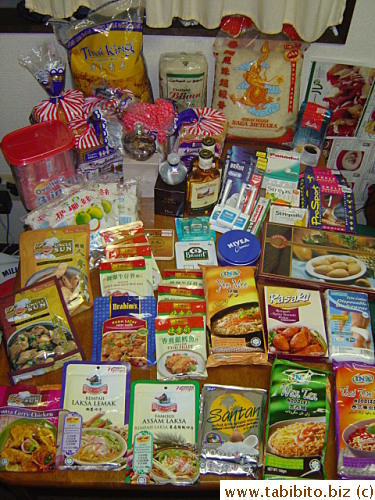 Shopping in Kuala Lumpur is a bargain. For someone who is used to paying highly-priced merchandise and food in Tokyo, I was ecstatic to see the comparatively low-pricing in KL. We bought a lot of
grocery
and household items and stayed away from the standard touristy souvenirs/traps such as pewter and jewelry.
The most accomplished items I bought are two bags of 5-kg aromatic rice from Thailand which tastes miles better than Japanese rice. Each bag is only US 4 bucks instead of $28 here and its fragrance well surpasses the kind sold in Tokyo. I also bought numerous packets of seasoning mix, sauces and sweets, all of which are unavailable in stores here. Oh, and I should mention the 3.5 liters Ribena blackcurrent concentrate we lugged back which I absolutely adore. I can drink that stuff all day long.

My friend says I'm just crazy going all the way to Malaysia to buy grocery. I said, "No, I'm just happy because I bought everything I LOVE in Malaysia, none will end up on a shelf gathering dust or forgotten in the back of the closet." To me that is shopping worth doing.

---
Back to top