Wolfgang Puck Cafe (2006-12-14)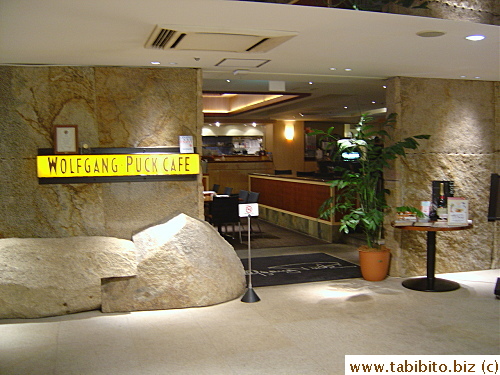 There're six Wolfgang Puck Cafe in Tokyo so far but the famous and ambitious chef and restaurateur plans to open a lot more in the next ten years. I had heard about how good the burgers and roast chicken the restaurant offered, so KL and I hopped over to give their lunch menu a try.
The restaurant is deceptively big inside despite its normal-sized entrance. There is darkish soft lighting throughout which is more suited for a romantic dinner than lunch. Sleek wooden tables and chairs compliment the stylish interior. We were led to a dining room with a very large window which lends valuable light to the room and makes it considerably brighter than the rest of the restaurant.

We both got the lunch special where KL had the roast chicken with soup (or salad), ceasar salad (or mashed potato) and beverage, and I got the Classic Puck Burger, fries (or onion rings), Chinois salad (fancy name for cole slaw), focaccia and beverage. We split everything in half and shared.
The soup was the first to come and it was so-so, a basic tomato-based vegetable concoction. The focaccia was the tiniest wedge of bread I've ever seen. Three dainty feminine bites or two normal sized bites would finish that. The bread was soft but not fluffy soft, it was actually a bit crumbly which reminded me of cornbread.

My burger came next and it smelled great. The toasted and warm bun was a tad too big for the patty but other than this little imperfection, the burger was awesome! There's a distinctive chargrilled smokiness in the juicy 100% beef patty and it was sososo flavorful. This has to be the best burger I ever had in Tokyo. The shoestring fries were extremely crunchy but due to their skinniness and mega crispiness, I can't say there's any fluffy potato left. If you like fries as crunchy as chips, these are for you.

The roast chicken with rosemary arrived soon after the awesome burger. Although I couldn't taste any rosemary flavor, the chicken was as juicy as a...watermelon? Every cut with the knife was like slicing through a water bag filled with chicken juice, the juice just poured out from the flavorful meat, so good!

I would so go back to have the burger again. It may be pricier than other burgers, but it is worth every yen.

Wolfgang Puck Cafe 8/F Lumine/ My City Building Shinjuku (
)
---
Back to top